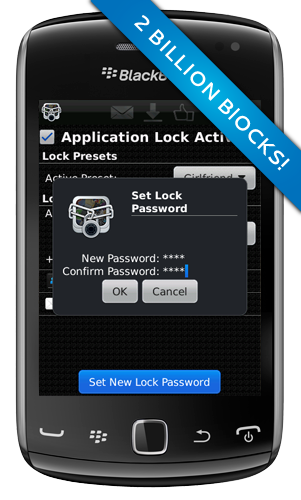 This weekend, our Lock Apps reached the milestone of a combined TWO BILLION (2,000,000,000!) blocked app entries!. Thanks to these apps you'll be able to protect your apps with a password from unwanted eyes. There are 28 free Lock Apps available. If you prefer to lock your apps from within one application, you can for just $0.99 with Application Lock Pro. For an overview of all the free Lock Apps, click here.
Features Application Lock Pro
Lock any app
5 predefined presets
Customize and add presets
Choose your own passwords
Compatibility
All Lock Apps are compatible with BlackBerry® OS7.
Download
Application Lock Pro