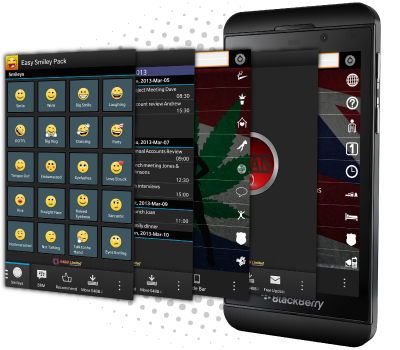 The past two months we've released some very exciting new applications for BlackBerry® 10. We kicked of with the release of two Talking Phrasebook series for the Netherlands: Dirty Dutch & Talk Dutch. We've also released a new update for Flashlight Pro (review in Indonesian) so that BlackBerry® 10 users can also shine a light in a dark matters.
To allow BlackBerry® 10 users to spice up their BBM™ chats, we've released a new update for Easy Smiley Pack making it compatible with the new BlackBerry® 10.
Some brand new applications exclusively for the BlackBerry® 10 platform are UK Property Finder and Calendar Week View. The first app being your help in finding a new house in the United Kingdom, the second allowing you an instant glance at your week's schedule.
Last, but certainly not least we've made Barcode Scanner compatible with BlackBerry® 10, allowing you to scan virtually any barcode with your BlackBerry® Smartphone device.
Stay tuned for more apps to come. To have a look & download the apps, check out the list below: