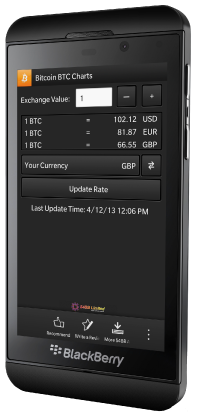 Recently Bitcoins have been prominently in the news, gaining more and more popularity, you might even own some Bitcoins. We have now released an application providing you with real-time Bitcoin exchange rates: Bitcoin BTC Charts for BlackBerry®. Convert Bitcoins to the currency of your preference, and the other way around. Better yet, Bitcoin BTC Charts is available for free at BlackBerry World™.
Features
Convert Bitcoins to your preferred currency.
Convert your preferred currency to Bitcoins.
Set custom quantities.
Intuitive User Interface.
Compatibility
Bitcoin BTC Charts is compatible with BlackBerry® Z10
Download
Bitcoin BTC Charts