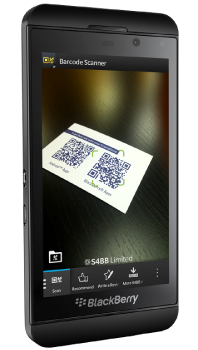 We've released a new update for Barcode Scanner for BlackBerry® 10 Smartphones. The new update fixes minor bugs and improves the overall performance of the app. The new update also adds a new type QR Code content recognition: BlackBerry World™ links. After scanning a BlackBerry World™ link you now have the option to open the link directly in BlackBerry World™. Another improvement is that the app now directly starts in scan mode. Scanning a barcode or QR Code is now literally a single click away. Just tap the app icon and aim your device at the barcode or QR code.
Features
Recognized content types:

Contact info: save to address book, or directly compose an email or call phone number.
Calendar Event: add event to calendar.
URL: open website in browser.
Email content: compose email.
Phone number: call phone number or add to address book.
BBM™ pins: invite to BBM™.
Geo Location: show location on BlackBerry® Maps or navigate to that location using BlackBerry® Maps.
Plain Text: copy to clipboard.
SMS: copy to clipboard.
WiFi: copy SSID or password to clipboard.
BlackBerry World™: open BlackBerry World™ links directly in BlackBerry World™.

Recognized barcode formats: Aztec, Code 39, Code 128, Data Matrix, EAN-8, EAN-13, ITF, QR Code, UPC-A &UPC-E.
Interactive User Interface
BlackBerry® 10 OS integration
History List functionality
Compatibility
The new version of Barcode Scanner is compatible BlackBerry® 10. A slim version of Barcode Scanner is also available for BlackBerry® OS.
Free Download
Barcode Scanner