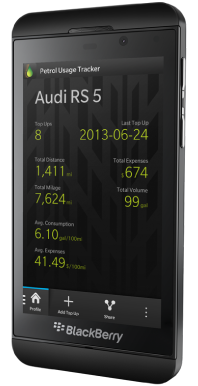 We've released a brand new application for BlackBerry® 10 Smartphones: Petrol Usage Tracker! With this new application you can keep track of your fuel consumption, your average fuel use and how much money you spend on fuel. Complete with a beautiful, native BlackBerry® 10 user interface, Petrol Usage Tracker is the perfect app for anyone who is conscious about his/her fuel consumption.
Features
Profile Management.
Average Consumption.
Average Expenses.
Native BlackBerry® 10 Interface.
Compatibility
Petrol Usage Tracker is compatible with all BlackBerry® 10 Smartphones.
Free Download
Petrol Usage Tracker