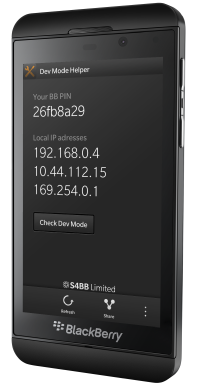 We have released a brand new application for BlacklBerry® 10 Smartphones: Dev Mode Helper! This handy, free application is the perfect tool for any BlackBerry® 10 developer. With this app you can quickly check your PIN number and IP addresses.
Features
Intuitive user interface.
Quick overview of IP adresses
Compatibility
Dev Mode Helper is compatible with all BlackBerry® 10 Smartphones.
Free Download
Dev Mode Helper