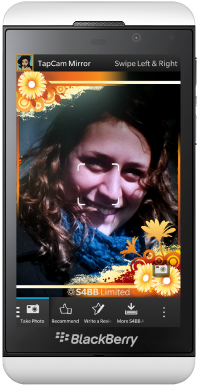 We've released a brand new application for BlackBerry® 10 Smartphone: TapCam Mirror. With this handy application you can take easy self shots. Choose from 2 fancy frames (or go without a frame) and take the perfect selfie with your front camera. Share your pictures with your friends via Facebook, Twitter or BBM™ within the application. Thanks to the integrated gallery function you can look up all the self shots you snapped with TapCam Mirror. 
Features
Two photo frames to choose from (or no photo frame at all)
Built-in gallery/photo viewer
Complete support for 16:9, 4:3 and 1:1 aspect ratios
Native BlackBerry® 10 Cascades GUI
Compatible
TapCam Mirror is compatible with all BlackBerry® 10 Smartphone.
Free Download
TapCam Mirror