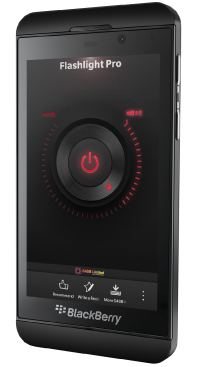 We've released a brand new update for Flashlight Pro for BlackBerry® 10 Smartphones. Thanks to the new update, Flashlight Pro remembers the settings after closing the application, making using this app even easier. We also fixed several minor bugs and improved the overall performance of the application.
Flashlight Pro is the ideal flashlight app for BlackBerry® 10 Smartphones. With a strobe light and constant light function and a beautiful user interface this app will provide you light when you need it!
Features
Choose between constant and strobe light.
Set strobe intensity.
Beautiful user interface.
No time limit.
Compatibility
Flashlight Pro is compatible with BlackBerry® OS 5 & BlackBerry® 10.
Download
Flashlight Pro