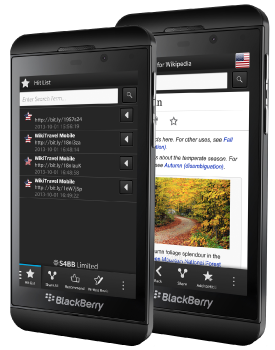 We updated our Search for Wikipedia and Search for Wikitravel apps for BlackBerry® 10 Smartphones. Thanks to the new update you can bookmark your favorite articles and add it to your Hitlist for easier access. We've also fixed several bugs and improved the overall performance of the application. With our free Search for Wikipedia and Search for Wikitravel you can browse the worlds' largest encyclopedia with the click of a button.
Features Wikipedia
Featured article everyday
Top news everyday
Available in over 40+ languages
Features Wikitravel
Upcoming events.
Destination of the month.
Travel alerts.
Top destinations.
Available in English & German.
Compatibility
Search for Wikipedia& Search for Wikitravel are both compatible with BlackBerry® 10.
Download
Search for Wikipedia
Search for Wikitravel