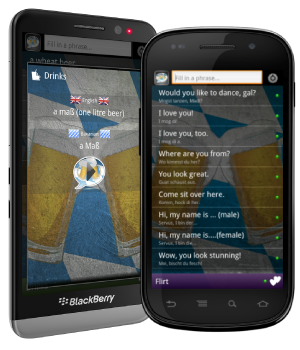 This weekend we have a special offer for all Oktoberfest fans! All our Talk Oktoberfest Bavarian Phrasebooks for Android and BlackBerry® are on sale for just $0.99 each! With this awesome application you'll have over 50 Oktoberfest themed useful phrases spoken in native Bavarian dialect. Whether it's ordering food, cheering or flirting, you have all the right sentences at hand with Talk Oktoberfest Bavarian Phrasebooks!
Features
52 useful and fun phrases
Stores files offline (no Internet connection needed after first download)
Written phrase in your own language
Written phrase in Bavarian German
Spoken phrase in Bavarian German
Automatic playback and caching
Search all phrases in your language
Available source languages: English, Mandarin, Cantonese, Japanese, Thai, French, Dutch & German
Compatibility
All Talking Phrasebooks are compatible with BlackBerry® 10, PlayBook 2.0 and up, BlackBerry® Legacy OS and Android 1.6 and up.
Download