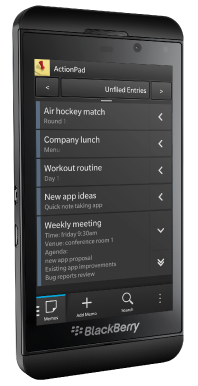 We've released Action Pad for BlackBerry® 10 Smartphones! Thanks to this application, managing your memos is now easy and convenient. Easily create, edit and delete memos and synchronize them with Microsoft Exchange and Evernote from within one Action Pad. Thanks to color coding and universal search integration, you can keep memos easily organized with Action Pad for BlackBerry® 10 Smartphones. Switching between categories is fast and convenient, using keyboard shortcuts (Q10 and Q5 only), drop-down and swiping.
Action Pad is the perfect app for anyone who wants to manage his or her memos more efficiently.
Features
Easy memo category switching via drop-down, swipe or shortcut (QWERTY devices only)
Color-coded category marker at each memo
Fast memo management (create, edit, delete)
Memo synchronization with Exchange & Evernote
Search in content of memos
In-List memo preview
Expandable memo preview
Full active frame support which can show general memo statistics, last edited memo, list of memo titles, rotate through memos
Compatibility
Action Pad is compatible with all BlackBerry® 10 Smartphones as well as BlackBerry Legacy OS devices.
Download
Action Pad