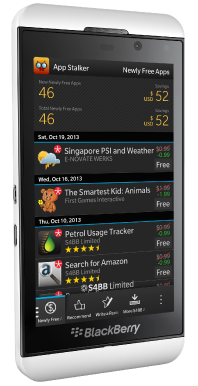 Great news for all BlackBerry® 10 users font of free apps! We have rebuilt our much beloved App Stalker application for BlackBerry® 10 Smartphones! Thanks to this handy free app you'll be able to keep track of paid apps that have been made available for free, or dropped in price! Besides tracking apps that have become cheaper, you're also able to keep an eye on all featured apps in BlackBerry World™. Being native built for BlacklBerry® 10, you can access any app you find directly from within the App Stalker application.
Features
Newly Free Apps (paid apps that turned free)
Price Drop Apps (apps that got cheaper)
Featured Apps (best apps in store)
Direct integration with BlackBerry World™
Push notification integration in BlackBerry® Hub showing newly free and price drop apps
Natively built for BlackBerry® 10
Download
App Stalker is compatible with BlackBerry® 10 and BlackBerry® Legacy OS.
Free Download
App Stalker