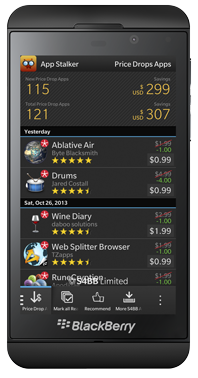 We've released an update for App Stalker for BlackBerry® 10 Smartphones! The new version now automatically starts on the screen that has the most new featured, free or discounted apps. To further improve the user friendliness, the actions at the bottom of the screen have been re-organized and several bugs have been fixed as well.
With App Stalker you can keep track of paid apps that have been made available for free or dropped in price on BlackBerry World™! Next to discounts, you are also able to check out new featured apps. Simply click on the app of your choice to get redirected to BlackBerry World™ and the download!
Features
Newly Free Apps (paid apps that turned free)
Price Drop Apps (apps that got cheaper)
Featured Apps (best apps in store)
Direct integration with BlackBerry World™
Push notification integration in BlackBerry® Hub showing newly free and price drop apps
Natively built for BlackBerry® 10
Download
App Stalker is compatible with BlackBerry® 10 and BlackBerry® Legacy OS.
Free Download
App Stalker