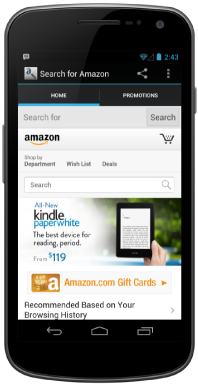 We've released Search for Amazon for Android Smartphones. With this handy application, Android users can now too shop easy on Amazon USA any time and any where they want. Thanks to push notifications you will never miss another Sales again. Login with your existing Amazon account and shop conveniently with Search for Amazon using your Android device.
Features
Simple mobile shopping experience.
Use your existing Amazon account.
Best selling lists.
Promotion Details & Search.
Compatibility
Search for Amazon is compatible with all devices running Android 2.2 and up!
Free Download
Search for Amazon