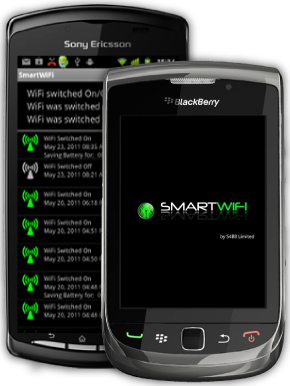 This weekend we got a Weekend Special for BlackBerry® OS and Android users: Smart WiFi! This weekend only, Smart WiFi is available for just $0.99. With this handy application saving battery is easy and convenient. Smart WiFi allows you to manage your WiFi connectivity. This app switches the WiFi function off whenever you leave a saved WiFi location and switches back on when you enter (another) saved WiFi location. As the WiFi function is one of the largest energy consumers, you can imagine how much battery time you save by using this app! Get Smart WiFi today for just $0.99!
Features:
Remembers up to 100 WiFi locations.
Saves battery by turning off WiFi when a WiFi zone is left
Improved stability and performance.
Less battery consumption.
Minor bug fixes.
Compatibility:
Smart WiFi is compatible with BlackBerry® OS 6.0 and up & all devices running Android 2.1 and up.
Free Download
Smart WiFi