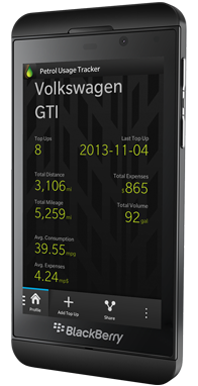 We've released a brand new update for Petrol Usage Tracker for BlackBerry® 10 Smartphones. In the new update we have added a "miles per gallon" option and we've added the remaining world currencies. Based on your location, the Petrol Usage Tracker will recommend you a currency to use, making setting up a car profile easy and fast! Track your fuel consumption, save money and get Petrol Usage Tracker today for free!
Features
Profile Management.
Average Consumption.
Average Expenses.
Native BlackBerry® 10 Interface.
NEW: all currencies supported, 139 in total.
NEW: mile per gallon calculations.
Compatibility
Petrol Usage Tracker is compatible with all BlackBerry® 10 Smartphones.
Free Download
Petrol Usage Tracker