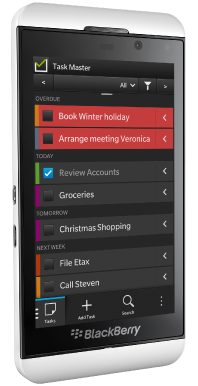 We've released Task Master native for BlackBerry® 10 Smartphones. This great legacy OS application is now also available as native application for all BlackBerry® 10 users. Task Master allows you to organize your tasks in a more effective way. Besides creating, editing and deleting tasks, you can switch between categories with a single click and assign due dates to tasks. Overdue tasks are highlighted and displayed in chronological order. Task Master integrates seemingly with the internal BlackBerry® task database like the Remember app (e.g. Microsoft Exchange tasks, Google tasks, local device tasks, etc.). Existing users can update for free, new users pay just $1.99. Task Master is the perfect application to organize your tasks and chores with. Start getting things done, get Task Master today!
Features
1-click category navigation
Assign due dates to tasks
Integrates with internal task database and calendar
Overdue tasks highlighted
Create, edit & delete tasks
Native built for BlackBerry® 10
Compatibility
Task Master is compatible with all BlackBerry® 10 devices as well as Legacy OS devices.
Download
Task Master