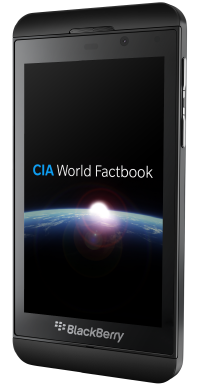 CIA World Factbook for BlackBerry® 10 has been updated. In the new update it's now possible to cache country data for offline use. We've also improved content rendering, and added search-as-you-type functionality for BlackBerry® Q10 and Q5! Last but not least, we've added a beautiful new splashscreen. CIA World Factbook is the perfect app for any traveler or student, providing you detailed information on over 270 countries and territories on-the-go.
Features:
Data for more than 270 countries and territories
Easy to navigate: just start typing the name of the country you're looking for
Once a country / region has been cached, no further internet connection is required (thus no data plan or roaming charges in foreign countries)
Read up on your destination on-the-go
Improved Content Rendering
Search-as-you-type functionality for BlackBerry® Q10 & Q5
Compatibility
CIA World Factbook is compatible with BlackBerry® 10, BlackBerry® Legacy OS, BlackBerry® and PlayBook™.
Download
CIA World Factbook