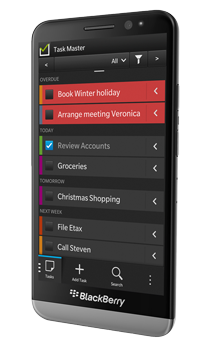 Task Master for BlackBerry® 10 has received a new update! In the new update we've added category management, allowing you to create, edit, delete and color code categories to organize you tasks more efficient. We also added more shortcuts, making Task Master even easier to use with a BlackBerry® Q10 or Q5. Last but not least we fixed several minor bugs, improving the performance of the application greatly.
Features
1-click category navigation
Assign due dates to tasks
Integrates with internal task database and calendar
Overdue tasks highlighted
Create, edit & delete tasks
Native built for BlackBerry® 10
NEW: Added short cuts for easier use
NEW: Task category management (create, edit, delete and color code)
Compatibility
Task Master is compatible with all BlackBerry® 10 Smartphones as well as BlackBerry Legacy OS devices.
Download
Task Master