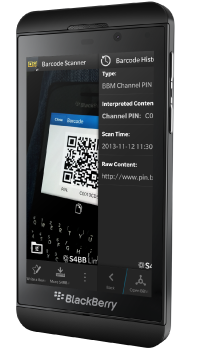 We've released a new update for Barcode Scanner for BlackBerry® 10 Smartphones! The new update is especially handy if you pay (or get paid) in Bitcoins and Litecoins, as the new update supports QR codes for both currencies. Besides that you can now also scan BBM™ Channel QR Codes easy and convenient with Barcode Scanner. Start scanning today, with Barcode Scanner for free!
Features
Recognized content types:

Contact info: save to address book, or directly compose an email or call phone number.
Calendar Event: add event to calendar.
URL: open website in browser.
Email content: compose email.
Phone number: call phone number or add to address book.
BBM™ pins: invite to BBM™.
Geo Location: show location on BlackBerry® Maps or navigate to that location using BlackBerry® Maps.
Plain Text: copy to clipboard.
SMS: copy to clipboard.
WiFi: copy SSID or password to clipboard.
BlackBerry World™: open BlackBerry World™ links directly in BlackBerry World™.
NEW: Bitcoin, address, value and label.
NEW: Litecoin, address, value and label.
NEW: BBM™ Channel, join information

Recognized barcode formats: Aztec, Code 39, Code 128, Data Matrix, EAN-8, EAN-13, ITF, QR Code, UPC-A &UPC-E.
Interactive User Interface
BlackBerry® 10 OS integration
History List functionality
Compatibility
Barcode Scanner is compatible BlackBerry® 10. A slim version of Barcode Scanner is also available for BlackBerry® Legacy OS.
Free Download
Barcode Scanner