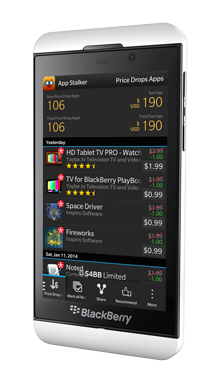 App Stalker is yet another one of our applications to receive the quality assuring Built for BlackBerry designation! Additionally, we also updated the app to a new version. Users can now share their lists of discounted and free apps to their friends and even let them know about specific apps that dropped in price or became free. The update also fixes a variety of bugs, such as an error that made the user interface blink upon marking all apps as read.
App Stalker is the perfect app to find the best deals on BlackBerry World™, allowing to track featured, discounted and newly free apps! Simply tap on a desired app to be redirected to BlackBerry World™ and the download!
Features
Allows to track apps on BlackBerry World™ in three categories:

Featured Apps (best apps in store)
Price Drop (discounted) Apps
Newly Free Apps (paid apps that turned free)

Instant redirection to BlackBerry World™ upon tapping a desired app
Optional push notifications to stay up-to-date with newly discounted and free apps
NEW: Share function for app lists and individual apps

Natively built for BlackBerry® 10
Compatibility
App Stalker is compatible with BlackBerry® 10 and BlackBerry® Legacy OS.
Free Download
App Stalker