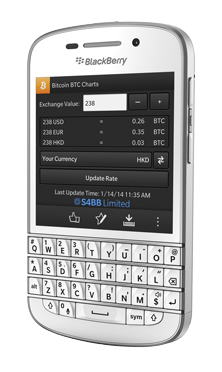 Our Bitcoin BTC Charts application has been updated to a new version! The update fixes a variety of bugs and improves the usability of the app greatly! The value per Bitcoin increased tremendously lately and is currently situated just below $1,000 USD! Bitcoin BTC Charts is the perfect application to keep track of the Bitcoin exchange rates and the value of one's own Bitcoin assets.
Features
Exchange rates for the most used cryptocurrency
Shows Bitcoin exchange rates in 25 different currencies
Always the latest exchange rates by tapping the 'Update Rate' button
Compatibility
Bitcoin BTC Charts is compatible with all BlackBerry® 10 Smartphones.
Free Download
Bitcoin BTC Charts