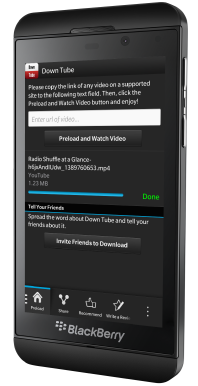 Down Tube has been Built for BlackBerry™ designated, guaranteeing a native BlackBerry® 10 experience and assuring you that this application meets the high standards on quality, performance and security set out by BlackBerry®. Down Tube is the perfect application for anyone who wants to watch YouTube, Metacafe or Vimeo videos without being interupted by buffer times. Preload your favorite videos to watch them later whenever you want.
Features
Supports YouTube, Vimeo and Metacafe
Quick 1 button local caching / download
Instant video viewing with BlackBerry 10 media player integration
Multi-URL support (desktop, mobile, short URLs supports)
Integrated Notifications for updates & new videos
Compatibility
Down Tube is compatible with all BlackBerry® 10 Smartphones.
Download
Down Tube