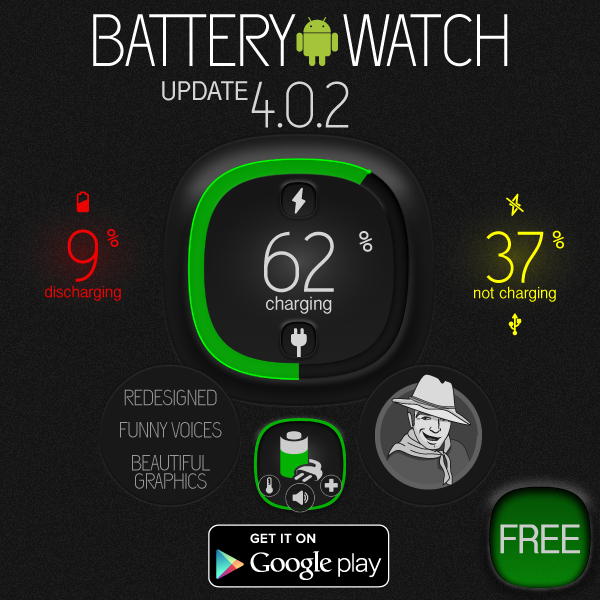 Today S4BB Limited has released the third update in the third week of the life of Battery Watch 4.0. It's still free and now comes with even more funny voices.
Changes in this version:
✔ Added 6 "Pro Voices" free of charge (until July): Clinton, Dr. GF, Duke, Mob, Walken and Williams
✔ Added "Write a Review" & "Recommend" button at top action bar – PLEASE use this and tell your friends about Battery Watch
✔ Added BuzzCity ad service (Indonesia & Singapore only)
✔ Added Compatibility with old Battery Watch Widget
✔ Improved user interface layout and texts
✔ Resolved issues: app crashes on some older devices.
*** Even MORE VOICES are coming! Stay tuned! ***
Battery Watch Features:
★ Shows your battery status beautifully when charging
★ Color-coded charging status (green, yellow, red)
★ Integrates into native Android device by showing battery state (fully charged, charging, discharging, unplugged, etc.).
★ Running out of battery warnings: Adjustable warning level and notifications.
ツ 11 Funny voices: audio notifications for "charging started", "charging completed" and "running low in battery" come with voices that sound like Cowboy, Gilbert, Mickey, Stitch, Yoda, Clinton, Dr. GF, Duke, Mob, Walken and Williams.
Battery Info Shown:
★ Battery Level & Status
★ Battery Temperature (Celsius or Fahrenheit) with min. and max. values
★ Battery Voltage with min. and max. values
Battery Watch is compatible with Android phones and tablets running Android 4.0 (Ice Cream Sandwich) or higher, and can be downloaded for FREE through Google Play:
Free Download
Battery Watch for Android