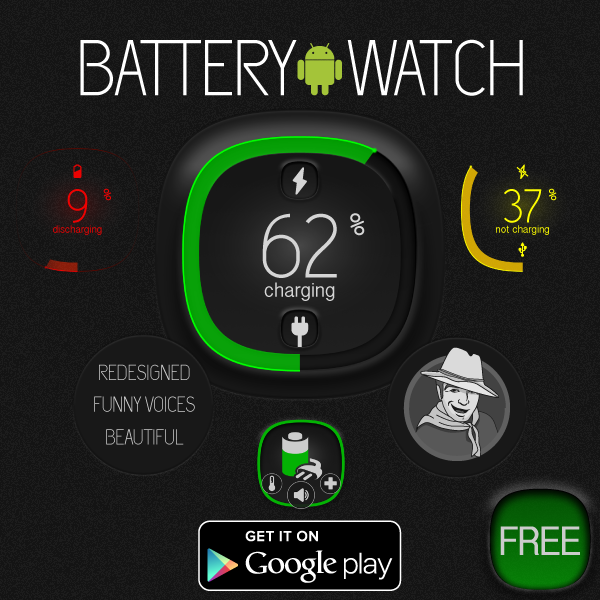 After 2 years of not updating Battery Watch for Android, S4BB Limited has just released a completely re-designed Battery Watch app on Google Play. It's still free, still with funny voices, but now comes with a stylish high end look that has been with care and detail in mind. Battery Watch features custom audio notifications that let you know when for example the battery is fully charged. This can help you to avoid overcharging your battery which results in your phone having a long battery life.
Battery Watch Features:
★ Shows your battery status beautifully when charging
★ Color-coded charging status (green, yellow, red)
★ Integrates into native Android device by showing battery state (fully charged, charging, discharging, unplugged, etc.).
★ Running out of battery warnings: Adjustable warning level and notifications.
ツ Funny voices: audio notifications for "charging started", "charging completed" and "running low in battery" come with voices that sound like … try it yourself to find out!
Battery Info Shown:
★ Battery Level
★ Battery Status
★ Battery Temperature (Celsius or Fahrenheit) with min. and max. values
★ Battery Voltage with min. and max. values
Battery Watch is compatible with Android phones and tablets running Android 4.0 (Ice Cream Sandwich) or higher, and can be downloaded for FREE through Google Play:
Free Download
Battery Watch for Android