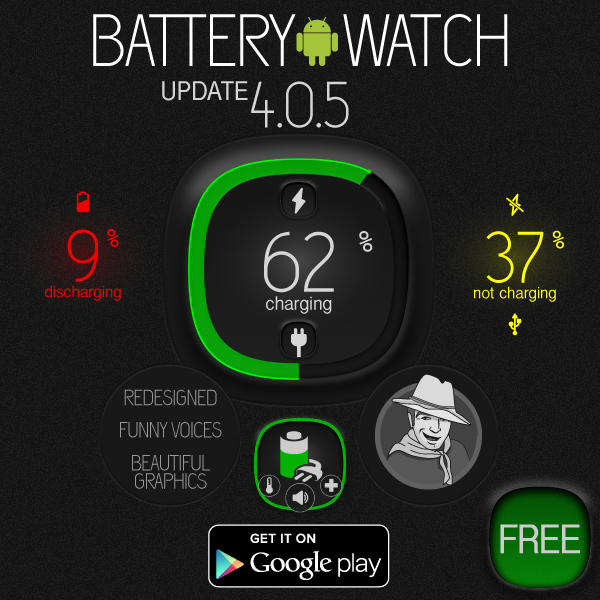 S4BB Limited published the 6th update release of Battery Watch within the past 5 weeks and is not stopping just yet! Make sure you keep your Battery Watch installation up-to-date with the latest voices!
Changes in this version:
ツ Added 1 new "Pro Voice" free of charge (until July)
✔ Added export of background statistics tracking (so you can see what we track)
✔ Added more status info at main view: display brightness, battery charging/discharging time, OS & device version
✔ Auto flip-back of circles added after 5 seconds
✔ Updated "About" screen with BBM Channel button
✔ Improved design in voice selection screen
✔ Improved play-sound and app popup speed on cable connect
✔ Some user interface glitches fixed
✔ Improved app stability and bug fixes
*** Even MORE VOICES are coming! Stay tuned! ***
Battery Watch Features:
★ Shows your battery status beautifully when charging
★ Color-coded charging status (green, yellow, red)
★ Integrates into native Android device by showing battery state (fully charged, charging, discharging, unplugged, etc.).
★ Running out of battery warnings: Adjustable warning level and notifications.
ツ 14 Funny voices: audio notifications for "charging started", "charging completed" and "running low in battery" come with voices that sound like Cowboy, Gilbert, Mickey, Stitch, Yoda, Clinton, Dr. GF, Duke, Mob, Walken, Williams, Gates, Kermit and Towelie.
Battery Info Shown:
★ Battery Level & Status
★ Battery Temperature (Celsius or Fahrenheit) with min. and max. values
★ Battery Voltage with min. and max. values
★ Display Brightness
★ Charging / Discharging Time
★ Device Information
Battery Watch is compatible with Android phones and tablets running Android 4.0 (Ice Cream Sandwich) or higher, and can be downloaded for FREE through Google Play:
Free Download
Battery Watch for Android