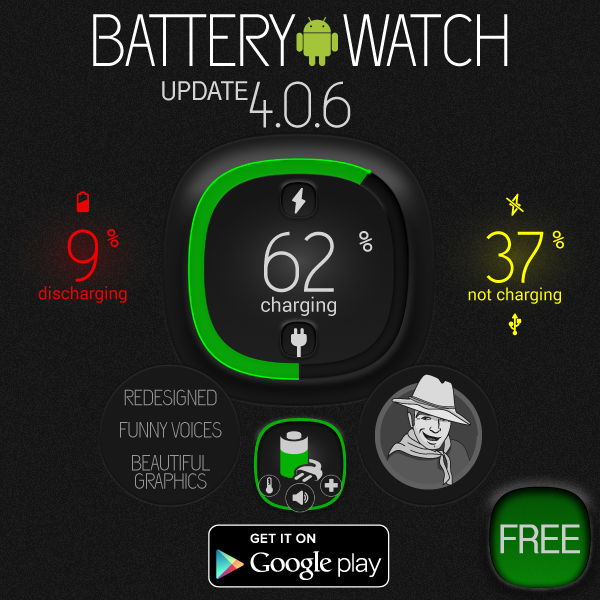 S4BB Limited has just released Battery Watch 4.0.6 with 10 new voices and more features and improvements. It's still free and now comes with even more funny voices.
Changes in this version:
ツ Added 10 new voice (free of charge until July)
✔ Improved background battery data tracking for upcoming statistics
✔ Removed ads from "Voices" and "Stats" views
✔ Added an easy button to check for updates
✔ Some user interface glitches fixed
✔ Improved app stability
✔ Several bugs fixed
Battery Watch Features:
★ Shows your battery status beautifully when charging
★ Color-coded charging status (green, yellow, red)
★ Integrates into native Android device by showing battery state (fully charged, charging, discharging, unplugged, etc.).
★ Running out of battery warnings: Adjustable warning level and notifications.
ツ 24 Funny voices: audio notifications for "charging started", "charging completed" and "running low in battery" come with many voices. Download it now to find out which!
Battery Info Shown:
★ Battery Level & Status
★ Battery Temperature (Celsius or Fahrenheit) with min. and max. values
★ Battery Voltage with min. and max. values
★ Display Brightness
★ Charging / Discharging Time
★ Device Information
Battery Watch is compatible with Android phones and tablets running Android 4.0 (Ice Cream Sandwich) or higher, and can be downloaded for FREE through Google Play:
Free Download
Battery Watch for Android