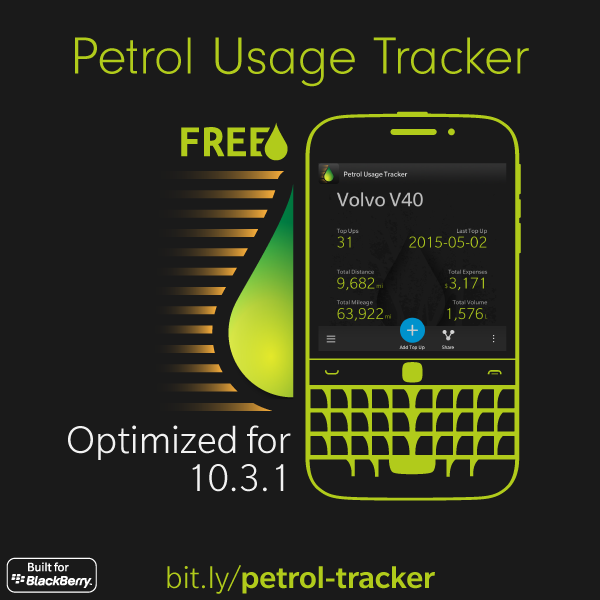 S4BB Limited has just a new update of Petrol Usage Tracker for BlackBerry 10. This latest release comes with full support for BlackBerry OS 10.3.1 including custom support for the trackpad of the BlackBerry Classic. Enhancements in terms of statistics and user interface / user experience as well as several minor bug fixes are part of this release.
Keep track of your petrol usage with Petrol Usage Tracker. Simple and easy to use. Just enter "Millage", "Volume" and "Price" to get your average fuel spending calculated for you.
Fuel money is hard to keep track of because It is not a regular expense. Your may burn more fuel this month because you had customer visits every day. It may also be zero because you were on vacation for summer. But it is as important an misc expense as any other household spendings.
Features:
Profile management
Average consumption
Average expenses
Multi-Car support
Export & Import of Top Up Data
139 Currencies supported
Units of Measurement: Metric, US Imperial, UK Imperial
Top Up contains: mileage, volume, price, date & time, notes and whether it has been a full or partial top up
Please note that Multi-Car support is a paid feature. Our fair structure of paid features is simple:
FREE of charge: 1 car & up to 5 top ups
BASIC $0.99: 1 car & unlimited top ups
PROFESSIONAL $1.99: 2 cars & unlimited top ups
UNLIMITED $4.99: unlimited cars & unlimited top ups
Compatibility & FREE Download:
Petrol Usage Tracker is compatible with BlackBerry® Leap, Passport, Classic, Z3, Z10, Z30, Q5, Q10, P'9982 & P'9983 and can be downloaded for FREE at BlackBerry World.
Free Download
Petrol Usage Tracker for BlackBerry 10