S4BB Limited is proud to announce the final release of TaskMaster™.
TaskMaster™ is a fully featured task application for BlackBerry® Wireless Handhelds with the "easy-to-use" approach for accessing tasks. TaskMaster™ has been inspired by the original Taskmaster character who is the best for doing all kinds of tasks and works for everyone! S4BB Limited is now filling the gap of a fully featured task application with the NextAction! approach. We have seen a lot of demand here and we always listen carefully to our customers' needs.
If you are interested in a full version for review purposes please don't hesitate to drop us an email! TaskMaster™ will also be available at the Handango and MobiReach networks soon.
TaskMaster™ for BlackBerry® Wireless Handheld
The next generation of to-do / task management with your BlackBerry® Wireless Handheld. Enhanced for GTD® use.

Features | Screenshots | Supported Devices | Purchase (Download)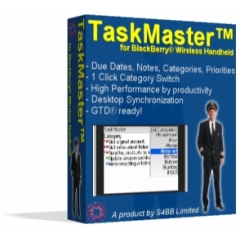 Features
FAST one click category switching – famous from NextAction!.
Full featured task support: due dates, priorities, notes, status, etc.
Synchronizes with Microsoft Outlook, Lotus Notes, Act!, Novell Groupwise, iCal, Entourage, and more.
100% compatible with internal Blackberry Task Application and NextAction!.
You can use them simultaneuosly if you want.
Enhanced for implementing GTD® (Getting Things Done).
Screenshots
Supported Devices
TaskMaster™ supports all current BlackBerry® devices include the whole 7100, 7130, 8100, 8300, 8700, and 8800 series. Please make sure your BlackBerry is running BlackBerry® OS 4.1 or higher.

Purchase (Instant Download)
Only $19.99 at MobileSoftMarkt
TaskMaster™ quick guide PDF: taskmaster_quick_guide.pdf

Purchase with Confidence
30-DAY unconditional Money Back Guarantee
SECURE Online Ordering
NO WAITING: Instant Download
FREE Lifetime Software Upgrades
FAST Customer Support
The RIM, BlackBerry and SureType families of related marks, images and symbols are the exclusive properties and trademarks of Research In Motion Limited.
Getting Things Done and GTD are registered trademarks of David Allen & Co.
TaskMaster™ is a trademark of S4BB Limited.
Your mobile software experts at S4BB Limited