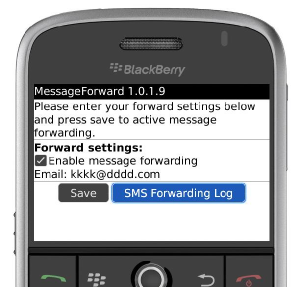 "MessageForward" can automatically forward your incoming SMS messages to any email address.
Features
Conveniently check your SMS text messages via email.
Avoid situations where you always have to check your phone.
Save a backup of all your incoming text messages for future reference.
Check your SMS text messages even when you do not have your BlackBerry® with you.
Keep track of SMS text messages on multiple phones in one single email account.
Compatible with Gmail, AIM Mail, Windows Live Hotmail, Yahoo! Mail, GMX Mail, Zenbe, Fastmail, Mail.com, HotPOP, 163.com, and any other email account.
Example: An AT&T subscriber gets a SMS text message on their BlackBerry®, then with MessageForward™, a copy is automatically forwarded to their Outlook.
How it works
MessageForward automatically forwards a copy of all incoming SMS text messages to any email address you provide.
Supported Devices
MessageForward™ supports all current BlackBerry® devices.
Get it now: MessageForward™ for BlackBerry®