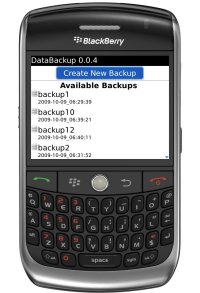 S4BB Limited just released a new beta version of the incredibly popular application DataBackup for BlackBerry. With DataBackup you back up private data like contacts, memos, tasks and more to the media card. A free and open to everyone beta test is currently running. We invite everyone who is interested to join and check out DataBackup!
New features since version 0.0.4 (BETA 3):
Tasks backup & restore.
Calendar Events backup & restore.
Emails backup & restore.
Restore List: shows all previously created backup files for easy selection and restore.
Backup location: choose the backup directory.
Backup medium: media card and internal memory supported.
Restore Detection: automatic detection which content is in a backup.
Restore Selection: choose which data to restore (memos, tasks, … or all).
Progress Bar: shows the progress during backup.
Step-by-Step: backup and restore screens. Keep it simple!
User interface improved:

New program icon.
Font size is now adjustable over all screens.
Progress bars now pop up.
Layout in backup and restore screens simplified.

Minor user interface issues have been fixed.
Free and Open Beta Program: DataBackup for BlackBerry