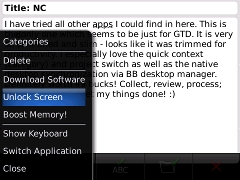 S4BB Limited just released RotationLock for BlackBerry® Storm™ and Storm 2™. Did you ever felt annoyed by the automatic tilt of your BlackBerry® Storm™ when you were writing an email? With RotationLock it is now possible to lock the screen of a particular application to portrait or landscape mode.
Core Features
RotationLock adds a menu item to all application on your device which will either allow you to "Unlock Screen" and "Lock Screen".
RotationLock is designed specifically for the Storm™. It works on all Blackberry® native apps and many more.
Compose emails in landscape mode or browse memos in portrait mode or any way you wish!
Watch a demonstration video of RotationLock now!
Instant Download: RotationLock for BlackBerry® Storm™ Series