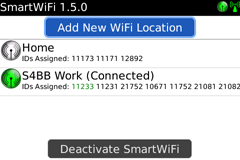 S4BB Limited just released SmartWiFi for BlackBerry®. Did you know that your BlackBerry® wastes a lot of energy by searching for WiFi networks? For example, when you are on the move and not connected to any of your configured WiFi networks. See how it works, watch the video.
SmartWiFi is the smartest way to save battery on your BlackBerry®! The revolution in battery power optimization!
SmartWiFi Features
Saves battery by turning off WiFi when no needed.
Remembers the WiFi locations you use.
Up to 100 WiFi locations supported!
Powers WiFi back on when you are back at WiFi coverage.
Saves battery by avoiding to constantly check for available WiFi hotspots.
Displays useful information: BSSID, SSID, Data Rate, Radio Band & Signal Level.
Supported mobile devices: GSM / GPRS, CDMA and iDEN.
More information: SmartWiFi for BlackBerry