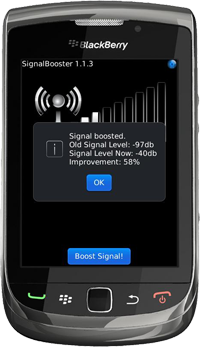 S4BB Limited just released SignalBooster for BlackBerry® Smartphones. SignalBooster can boost your weak or lost signal with just one click! Improved signal strength means faster transfer speed on all your data communication devices and crisp voice quality on your mobile phones.
SignalBooster boosts your reception with just one touch.
Core Features
Optimizes BlackBerry® radio usage.
No device reset required. Therefore a lot faster than everything else!
No new hardware: Software only solution. No additional hardware needed! Does not influence any other applications.
Instant feedback on reception gain.
How it works:
By clicking the "Boost Signal!" button your voice, data and Internet connections are being reset. The best possible reception is chosen for the new signal and then all your connections come up again automatically. You will see a summary dialog of what just happened and how much performance you gained.
More information: SignalBooster for BlackBerry Smartphones