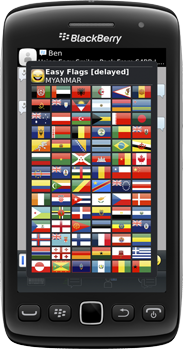 Customize your BlackBerry® Messenger messages with more than 630 emoticons and surprise your friends! We have just updated our famous Easy Smiley Pack app, improving performance and visible profile box activities of your contacts on your BBM™ profile. Best of all, Easy Smiley Pack for BlackBerry® Smartphones is for FREE!
Features:
250+ smileys, 210+ country flags, and 150+ ASCII art images in total!
BlackBerry® Messenger status customization.
NEW: Visible profile box activities.
NEW: Check your contacts activities.
Compatibility:
All BlackBerry® Smartphones running OS 5.0 and up.