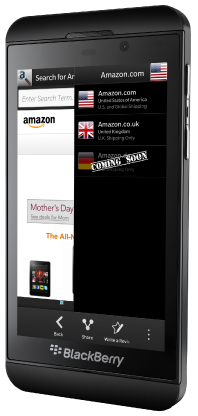 We've released a new update for Search for Amazon for BlackBerry® 10 Smartphones. Thanks to the new update you can now select your country store: Amazon USA or Amazon UK. We'll soon extend the country store options with Amazon Germany and many more. Search for Amazon is now also compatible with BlackBerry® Q10. Browse Amazon for your favorite products with the touch of a button.
Features
Access Amazon directly from your home screen.
Choose your Country Store.
Intuitive User Interface.
Small footprint.
Compatibility
Search for Amazon is compatible with BlackBerry® Z10 & Q10.
Free Download
Search for Amazon