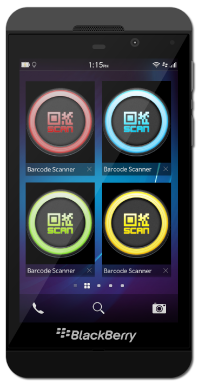 We've released a new update for Barcode Scanner for BlackBerry&reg 10 Smartphones. The new update allows you to compose text messages from within Barcode Scanner. Also new in the update is the option to send scanned Contact and Event content as email attachments. Last but not least, we've fixed reported bugs, making Barcode Scanner perform even better.
Barcode Scanner is an award winning application for BlackBerry® Smartphones that allows you to scan and interact with various Barcode and QR Code types.
Features
Recognized content types:

Contact info: save to address book, or directly compose an email or call phone number.
Calendar Event: add event to calendar.
URL: open website in browser.
Email content: compose email.
Phone number: call phone number or add to address book.
BBM™ pins: invite to BBM™.
Geo Location: show location on BlackBerry® Maps or navigate to that location using BlackBerry® Maps.
Plain Text: copy to clipboard.
SMS: copy to clipboard.
WiFi: copy SSID or password to clipboard.

Recognized barcode formats: Aztec, Code 39, Code 128, Data Matrix, EAN-8, EAN-13, ITF, QR Code, UPC-A &UPC-E.
Interactive User Interface
BlackBerry® 10 OS integration
History List functionality
Compatibility
Barcode Scanner is compatible BlackBerry® 10. A slim version of Barcode Scanner is also available for BlackBerry® OS.
Free Download
Barcode Scanner