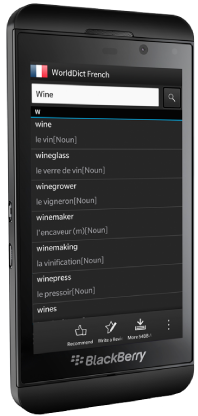 We've released WorldDict applications for BlackBerry® 10 Smartphones. There are 5 WorldDicts available: French, German, Spanish, Portuguese and Italian. Thanks to the WorldDicts you'll have a full-sized, on-device dictionary available anytime you need it. Complete with a simple and easy to use interface and a low foot print, the WorldDict series are the perfect linguistic reference application available for BlackBerry® 10.
Features
Dictionary is 100% on device
Highly compressed dictionary data
Detailed word definitions
Multiple meanings for a word
Intuitive user interface
Compatibility
All WorldDicts are compatible with BlackBerry® Legacy OS, BlackBerry® PlayBook™ and BlackBerry® 10.
Download
WorldDict French
WorldDict German
WorldDict Spanish
WorldDict Portuguese
WorldDict Italian