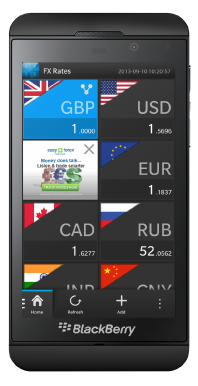 We've released a brand new application for BlackBerry® 10: FX Rates. Thanks to this awesome application you can convert multiple currencies at the same time. Complete with 139 currencies to choose from and a beautiful, customisable user interface, FX Rates the perfect app for anyone on-the-move. After connecting your BlackBerry® 10 Smartphone, the app caches the exchange rates so you can use the app without the need for an internet, saving you money. Download FX Rates for free today!
Features
Free Real-Time Multi-Currency Conversion
Supports 139 Currencies – Cross-Currency Conversion
Offline Mode (no Internet needed to use latest exchange rate)
Share Cross-Currency Conversion through BBM, Twitter, Facebook, LinkedIn, Email, Text, WhatsApp, NFC
Customize Currency Order and Layout via Drag'n'Drop
Exchange Rate Update On-Demand
Compatibility
FX Rates is compatible with all BlackBerry® 10 Smartphones.
Free Download
FX Rates