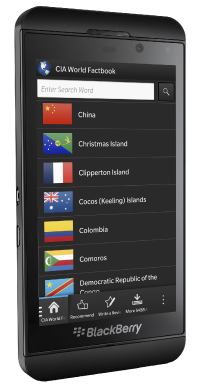 We've released a brand new update for CIA World Factbook for BlackBerry® 10 Smartphones. We've rebuild the application specifically for BlackBerry® 10 Smartphones, using Cascades. We've also updated the country list and flags. Last, but certainly not least, we've integrated World Country News making CIA World Factbook 2013 your number 1 app for any country information.
Features:
Data for more than 270 countries and territories
Easy to navigate: just start typing the name of the country you're looking for
Once a country / region has been cached, no further internet connection is required (thus no data plan or roaming charges in foreign countries)
Read up on your destination on-the-go
Compatibility
CIA World Factbook is compatible with BlackBerry® 10, BlackBerry® Legacy OS, BlackBerry® and PlayBook™.
Free Download
CIA World Factbook