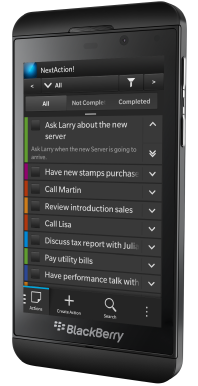 We've released NextAction! for BlackBerry® 10 Smartphones. Implement the famous "Getting Things Done®" method and increase your productivity on-the-go. Add actions with a single click, and switch between contexts with the click of a button. Thanks to BlackBerry® 10 & PIM database support, NextAction! integrates seemingly with Microsoft Exchange. Start Getting Things Done® with NextAction! for BlackBerry® 10.
Features
Natively built for the GTD® method
1-click shortcut context switch, keystroke action creation, action save & action complete marking
Seamless integration with Microsoft Exchange / Outlook
Easy search in all listed actions
Quick view into action's additional notes
Full active frame support (customizable content)
Shortcuts for efficiency (create action screen: ENTER
Shortcuts for Q5/10 devices for improved workflow
Context management: creating, editing, deleting, custom coloring
Compatibility
NextAction! is compatible with all BlackBerry® 10 and BlackBerry® Legacy OS Smartphones.
Download
NextAction!