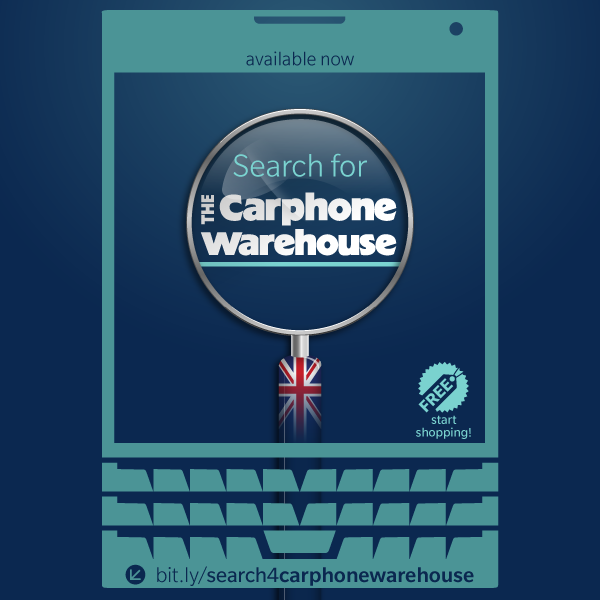 S4BB Limited has just released Search for Carphone Warehouse to bring on-the-go shopping for mobile phones, contracts and accessories to BlackBerry 10. Search for Carphone Warehouse has been launched to offer more choice to our users world-wide and allow them to conveniently shop on-the-go. By integrating into the BlackBerry Assistant / Universal Device Search it is now possible to search for mobile phones, accessories and plans right from the BlackBerry home screen.
Get Search for Carphone Warehouse now to go shopping at Carphone Warehouse right from the home screen of you BlackBerry 10 device. You can shop for mobile phones, upgrades, sims, tablets, waerables and more.
Features:
★ Simple mobile shopping experience
★ Use your existing Carphone Warehouse account
★ Easy share of products found on Carphone Warehouse (share via BBM, email, Bluetooth, Whatsapp, Twitter, Facebook, etc.)
★ Best selling lists
★ Instant notifications of current and upcoming promotions – you'll never miss a sale!
★ Favorites List
★ Promotion Details & Search
★ Instant Type-Search on BlackBerry Q10, BlackBerry Q5, BlackBerry P'9983, BlackBerry Passport and BlackBerry Classic
★ Device Search Integration (search in your home screen and tap the Search for Carphone Warehouse icon)
Shopping Categories:
Mobile Phones
Upgrades
SIMs
Tablets
Wearables
Offers
Supported Country: United Kingdom only.
Compatibility & FREE Download:
Search for Carphone Warehouse is compatible with BlackBerry® Passport, Classic, Z3, Z10, Z30, Q5, Q10, P'9982 & P'9983 and can be downloaded for FREE at BlackBerry World.
Free Download
Search for Carphone Warehouse for BlackBerry 10