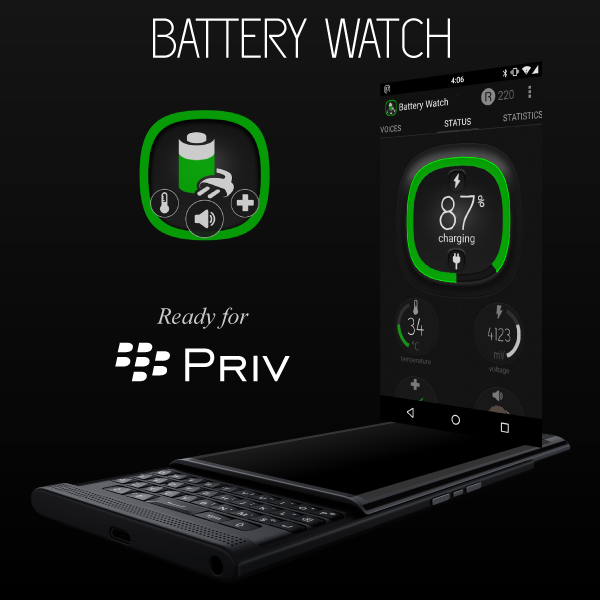 S4BB Limited announces full compatibility of their popular Battery Watch app with the brand new BlackBerry Priv.
Many loyal BlackBerry users love the Battery Watch app and use it for many years on their BlackBerry smartphones and tablets. With the launch of the Priv by BlackBerry, a great Android-powered smartphone has entered BlackBerry's handset portfolio. S4BB Limited strives to make their products available for all users on all important platforms. Therefore, Battery Watch is now available for the BlackBerry Priv as it has been available for all other in-market BlackBerry devices.
Battery Watch puts a smile on your face – every time you plug in your power cable, every time your charging has completed and every time your device is running low in battery.
44 Funny Voices lighten up your power drain pain.
Battery Watch Features:
View Battery Percentage in any app (via notification bar)
Know your battery status while charging
See if your phone is overheating
Get notified when you're running out of juice
Get a voice alert when you're fully charged — thus, avoid over charging
Find out how long it takes to charge or discharge your phone
Find out additional details of your device like manufacturer, model, Android version, build number, voltage (incl. min and max values)
Battery Watch for BlackBerry Priv can be downloaded for free on Google Play.

BlackBerry 10 users can download Battery Watch from BlackBerry World as well as from the Amazon App Store.