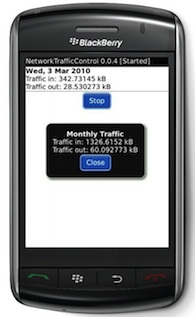 We have just started the free and open beta of Network Traffic Control for BlackBerry® smartphones. It is now very easy to track the network traffic your device consumes per day or per month.
New features since version 0.0.4 (BETA 1):
Important Notice: This is a very early BETA version. Data integrity and accuracy can NOT be guaranteed!.
Tracking Traffic: Tracking the network needs to be activated manually. Note: only the amount of traffic is tracked. No traffic content is tracked at any time.
Daily Traffic: On the main screen you can see the daily traffic.
Monthly Traffic: Via "menu » Monthly traffic" you can view the monthly used up traffic (full month is only shown when traffic tracking was activated from the first onwards).
Supported BlackBerry® devices: 71xx, 87xx, 81xx Pearl, 82xx Pearl, 83xx Curve, 85xx Curve Series, 88xx, 89xx Curve, 90xx Bold, 95xx Storm, 96xx Tour, 97xx / Bold Series.
Network Traffic Control for BlackBerry®: Join the free and open beta program now!