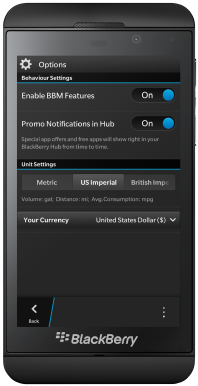 We've released a new update for Petrol Usage Tracker for BlackBerry® 10 Smartphones. In the new update we support 3 units of measurements: Metric, UK Imperial & US Imperial. We've also added a notes functionality allowing you to add details to your top-up like gas station name, fuel sub-type (Octane 98, Octane 95 etc.) and more.
Petrol Usage Tracker is the perfect application to keep track of your fuel consumption, your average fuel use and how much money you spend on fuel. Download Petrol Usage Tracker for free today at BlackBerry World™.
Features
Profile Management
Average Consumption
Average Expenses
Native BlackBerry® 10 Interface
All currencies supported, 139 in total
Mile per gallon calculations
NEW: 3 units of measurement supported: Metric, UK Imperial & US Imperial
NEW: Add notes to your top-ups
Compatibility
Petrol Usage Tracker is compatible with the BlackBerry® Z10, Z30, Q10, Q5 & P9982.
Free Download
Free Petrol Usage Tracker