MemoryBooster™ for BlackBerry® Wireless Handheld
Boosts your device speed by recovering wasted memory.
Core Features | Screenshots | Awards | User Reviews | Supported Devices | Instant Download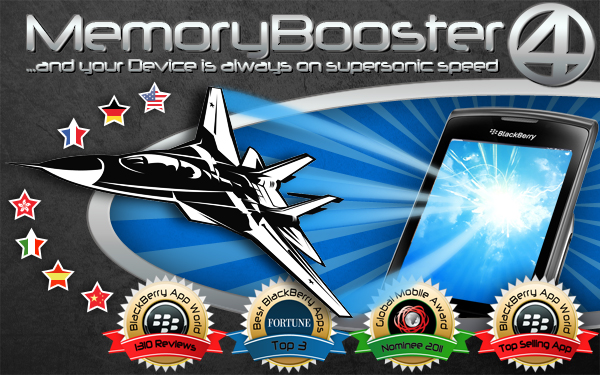 Core Features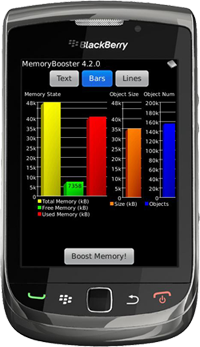 Benefits: Boosts your device speed by recovering wasted memory.
Easy: Just hit "Boost Memory".
No New Hardware: Software only solution. No additional hardware needed! Does not influence any other applications.
Visuals: Fancy bar charts and textual high performance memory overview.
Automatic Background Boosting: Make sure the BlackBerry® is never wasting memory!
Statistics: Extensive statistical data for effectiveness tracking.
Instant Download: OTA and desktop installation available.
How it works


How it works: If memory is wasted, MemoryBooster improves the memory management of the BlackBerry® Java Virtual Machine JVM which optimizes the device performance and stability. MemoryBooster recovers lost memory that is then free and can be assigned to running applications. You will see your applications running faster after using our "Boost Memory!" function. By simply hitting the "Boost Memory" button you can recover up to 12 MB or even more depending on your device.

Ubiquitous Rule: The more memory available the more memory your other applications can use and therefore, the faster these applications run.

MemoryBooster in Plain English

Screenshots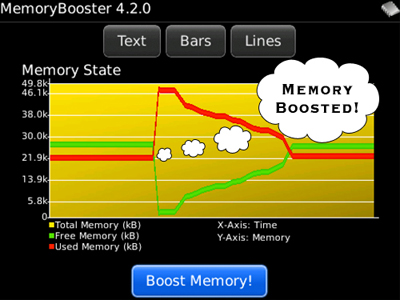 Awards
MemoryBooster is recognized by the public for its technical excellence, innovation, superior technology adoption, high performance, and outstanding design.
Fortune Magazine
Fortune Magazine rated MemoryBooster as their Top 3 BlackBerry® Application in their August 31st 2009 Edition.
Top Selling Application
MemoryBooster was the worldwide best-selling application on BlackBerry® App World for most of the year in 2010.
Most Reviewed Paid Application on BlackBerry® App World
MemoryBooster is the #1 most reviewed paid application on BlackBerry® App World.
The Global Mobile Awards 2011 Nominee
MemoryBooster is the The Global Mobile Awards nominee for the category of App of the Year on the BlackBerry® App World Platform.
User Reviews
MemoryBooster is used by over 100,000 people from all over the world covering all countries and languages.
Read here what users like you had to say:
Abe via BlackBerry® App World
"This app seems to work well for my BB storm. I can really tell a difference after I use it. My other apps run more smoothly. [...] It does its job."
George on BlackBerry® App World
"Just bought it and it works great!!! I ran it and it recovered 10MB! Noticed the speed of my BB Storm increase immediately. A must have app!"
Michael on BlackBerry® App World
"[...] I think it's well worth the money. Great app my bb is now a lot faster! It should come with this app pre-installed though, why make a phone so slow if it is capable of going much faster?"
Supported Devices
MemoryBooster™ – Supported BlackBerry® devices:

82xx / Pearl Series
85xx / Curve Series
89xx / Curve Series
90xx / Bold Series
91xx / Pearl Series
93xx / Curve Series

95xx / Storm Series
96xx / Tour Series
97xx / Bold Series
98xx / Torch Series
99xx Series

Please make sure your BlackBerry® is running BlackBerry® OS 5.0 or higher.
Get MemoryBooster